Published 24 March 2023
The evolution of medical congress – where next?
Congresses returned with a bang in 2022. With face-to-face gatherings able to resume, pharma and healthcare professionals flocked back to on-site events for valuable scientific information, discussion and networking.
But not everything is the same post-pandemic; a hybrid congress model has emerged, bringing with it exciting opportunities to reach huge global audiences of HCPs who would otherwise be unable to attend in-person.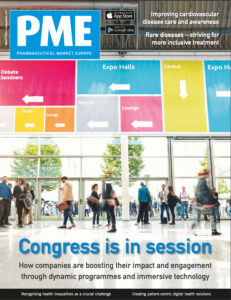 In an Interview for the March edition of PME magazine, EPG Health's Head of Scientific Services Ben Gallarda – a thought-leader in digital HCP engagement – discusses the changing format of congresses and the next steps for their evolution.

While the appeal of face-to-face interactions is not going away, he tells the publication that congresses will have to raise their game to meet expectations from audiences who have become accustomed to rapid, targeted content delivery online.
"The best medical societies, those that recognise the overlap of sustainability and healthcare, will provide a suitable hybrid model that acknowledges the dual priority of getting right people there in-person and providing expanded access globally. 
"They will align a hybrid model with priorities of access, improving healthcare and the equal opportunity to access this information. They will do this by using effortless, seamless technology that will make the content more available." 
Ben Gallarda, Head of Scientific Services, EPG Health
EXPANDING REACH WITH KEY TAKEAWAYS
Gallarda also tells PME: "Doctors have a real high priority for congress information but they cannot attend every single one, so there is a way to serve that demand by making spotlight sessions or the most important takeaways free." 
In the digital age of content delivery, an overwhelming 89% of healthcare professionals state that they want access to highlights from congresses they can't attend. EPG Health is meeting this demand with its pharma-sponsored, independently-produced Congress Highlights, hosted on Medthority (www.medthority.com), an innovative learning environment for HCPs.
"Doctors are finding their information from third party websites that provide convenient access to congress news and key highlights, along with expert analysis. We find those are immensely popular across our readers," says Gallarda. 
EPG Health attended 14 congresses last year, producing more than 100 articles, available on-demand, which feature key takeaways, KOL clips and expert insights to support the application of the latest science in clinical practice.
BEN GALLARDA DISCUSSES THE IMPACT OF CONGRESS HIGHLIGHTS
Want to amplify the latest science? We can help.
Congress Highlights on Medthority reach a global audience of healthcare professionals with credible, easy-to consume takeaways, published within days of the event. They feature expert commentary to support the implementation of key medical advances in clinical practice, with impact measured through analytics and reporting.
About the author
Content Marketing Manager
Steve joined EPG Health in 2022 following a decade in journalism working as an editor and reporter across various publications in the transport, construction and engineering sectors. His main responsibility involves developing quality marketing content and campaigns for meaningful pharmaceutical engagement.