Learning Zones
Help HCPs make informed patient management and treatment decisions
EPG Health's flagship solution, the 'Learning Zone', is steered by our two decades of real-word insight and practical experience of the evolving digital behaviour and content preferences of healthcare professionals (HCPs).
Containing the information needed to make informed clinical decisions, Learning Zones are disease or condition focused and self-directed learning environments on our independent HCP portal, Medthority (www.medthority.com). Catering to the needs of both HCPs and customers, Learning Zones adapt and scale for longer term engagement, creating personalised touchpoints, impactful journeys and re-engagement opportunities to reinforce educational messages.
Why sponsor a Learning Zone?
Reach your target HCP audience from 1.8 million HCPs globally

Engage them with content that highlights key educational messages

Measure efficacy through reports on engagement and impact

Most HCPs return, and 90% confirm it supports their treatment decisions

Learning Zones account for over two thirds of Medthority traffic

>80% of our customers renew and 94% rate our service highly

HCPs prefer information that is independent, online and credible
DOWNLOAD OUR LEARNING ZONES BROCHURE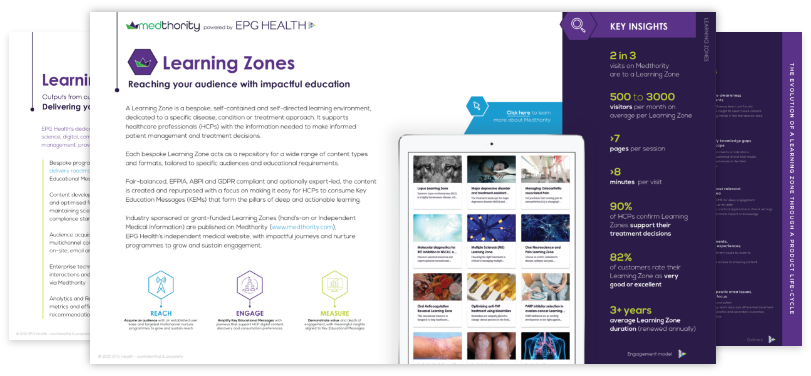 Options for content type and format

Standard programme deliverables

Tailoring to individual requirements

A Learning Zone demo video

Multi-stakeholder feedback and metrics

Client case study for early life-cycle

Client case study for established product