Published 8 November 2021
Leveraging multichannel and multimedia in HCP education
COVID has forced the pharma industry to step up and take a more innovative approach to the channels and content it uses to reach and engage with HCPs, says Chloe Prince, account director at EPG Health.
In the face of the pandemic, pharma companies are adapting traditional methods of customer engagement, as well as adopting newer ones, to overcome restrictions on face-to-face contact and increased competition for HCPs' time in the digital space.
The question for pharma marketers is how effectively have their firms been responding to these changes?
Our latest research, published this month, indicates that multichannel and omnichannel strategy is one of pharma's main objectives – but also one of its biggest challenges for improving HCP engagement.
To help overcome this, here are three ways marketers take a more innovative approach to both channels and content.
Optimise customer journeys in a congested digital space
For years now, pharma has prioritised face-to-face activities, via field forces and scientific meetings, despite HCPs voting websites their number one source of medical information. However, since the start of the pandemic there has been an unavoidable shift in pharma's focus and allocation of resources to 'digital'.
Pharma companies have increased the development and integration of their own, and third-party, platforms. We are also witnessing a watershed moment for social media, with both HCPs and pharma using mainstream social platforms in higher volume.
Alongside this, virtual meetings and webinars have been offered to the point of 'virtual fatigue' and there has been heavy reliance on email as a means of raising awareness of all these digital activities.
With HCPs being increasingly time-poor, and so much information now available in the online space, pharma needs to give them a compelling reason to engage. But it also needs to offer superior customer experience, with concise information, convenient access, ease of consumption and personalised journeys to reach HCPs in the right way, place and time.
Content remains 'king' of customer experience
Customer experience is not just about the technology or channels, it relies on optimising the content that sits within them. Different channels offer varying capabilities or advantages by content type and format, so in a multichannel era it is important to plan, create, repurpose and optimise content for individual channels and purposes. While this has caused challenges for pharma from a process and approval perspective, in principle it is a more efficient means of reaching and supporting intended audiences effectively.
We know that HCPs prefer bite-sized and interactive content, chunked into digestible/micro learnings. So, breaking down recordings of scientific meetings into a series of videos, and aligning short eLearning modules, for example, not only extends the life of content beyond the event but also uses multimedia to keep HCPs engaged and reinforce their learning.
Similar can be achieved with podcasts, infographics and other types of content. However, pharma must be prepared to experiment and innovate throughout delivery, factoring in the longer tail opportunities. There has never been a better time, or one with more momentum, to try new ways to engage better.
Continue experimenting and diversifying to cut through
Lastly, it's clear that pharma can no longer rely on 'owned' channels, especially in the competitive digital space, where HCPs prefer independent sources (associated with greater credibility).
Nor can each channel be viewed and used in isolation. What is needed is an integrated approach that allows more HCPs to make journeys to, and through, your content. But one size does not fit all when it come to the content – offering multiple media options is an ideal way to support a convenient and personalised customer experience.
Content and customer journeys need to be optimised for each bespoke HCP education programme and incorporate multichannel outreach campaigns if audience reach and engagement is to be maximised.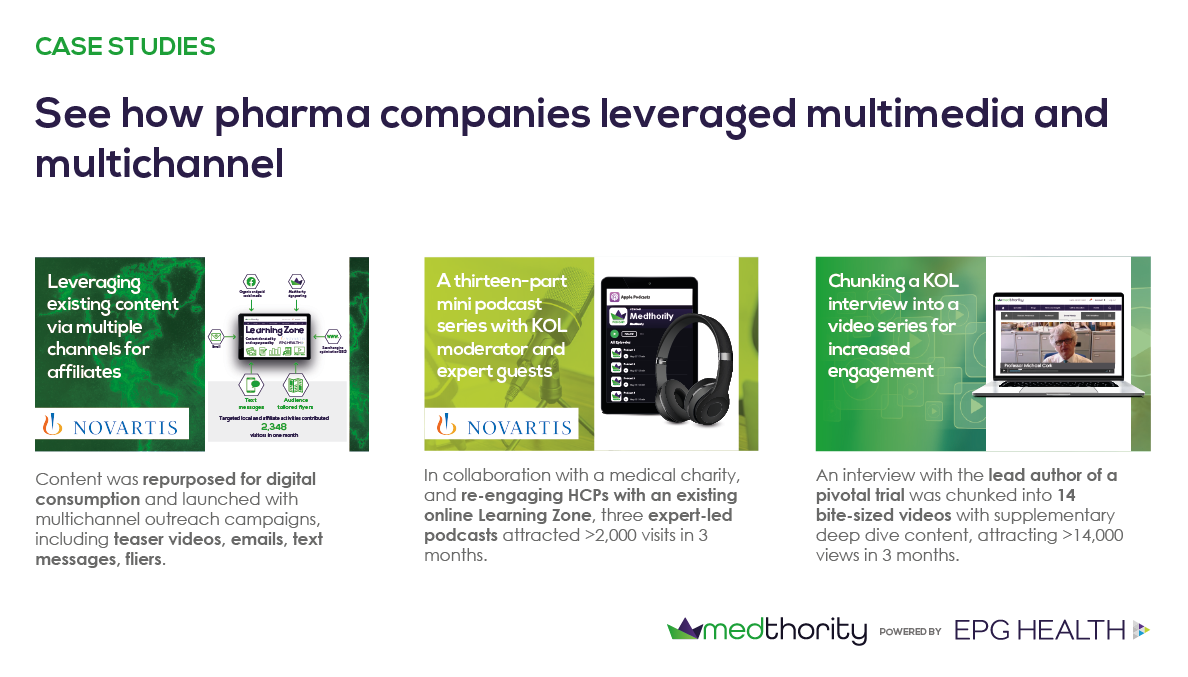 About the author
Account Director, EPG Health
Chloe is responsible for developing some of our key pharma client accounts. With her commercial background and experience project managing virtual/hybrid events and webinars, Chloe prides herself on the delivery of creative programmes, with optimised user-experience and results tailored to client's specific KPIs.