Published 12 April 2023
Harnessing the power of omnichannel for impactful HCP engagement
Seismic shifts in the communications landscape which were triggered by the pandemic have now solidified into widespread consensus across the pharmaceutical industry on the way forward for meaningful engagement with healthcare professionals: omnichannel.
An omnichannel approach involves tailoring engagement to the needs and preferences of individual HCPs, in a way that seamlessly spans virtual, online and in-person points of contact.
In this article, EPG Health – an independent publisher of medical education – offers insight based on real-world experience and compiled research to detail four foundational pillars critical to support effective omnichannel HCP engagement.
Advice in this article covers: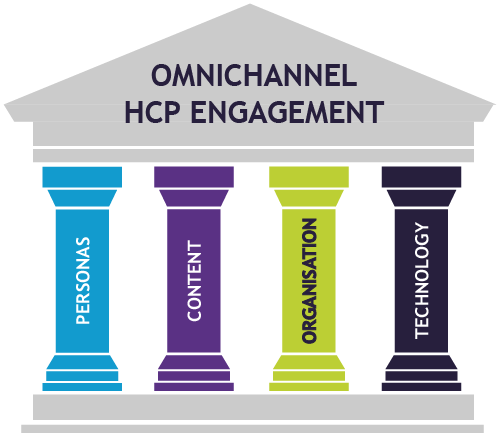 BACKGROUND – THE CURRENT SITUATION AND HOW WE ARRIVED HERE
For pharma commercial and medical affairs teams alike, COVID-19 lockdowns forced an urgent pivot away from in-person meetings and events as remote and digital forms of communication became indispensable.
This shake-up – coupled with growing digital know-how and the rise of personalised user experiences offered by the likes of Netflix and Amazon – has permanently changed HCP expectations around pharma interactions, despite face-to-face making a comeback in 2022.
Medical professionals have become accustomed to convenient digital engagements, delivered on their own terms. They are time-constrained and want to receive the right information, relevant to their needs, via their preferred channel and at a time of their choosing.
Pharma is well aware of these evolving demands and understands that meeting them is now a requirement, not just a nice-to-have, for effective HCP engagement. But this is easier said than done and HCP sentiment suggests that, to date, the industry's forays into the 'new normal' of digital content delivery have in many cases been wide of the mark.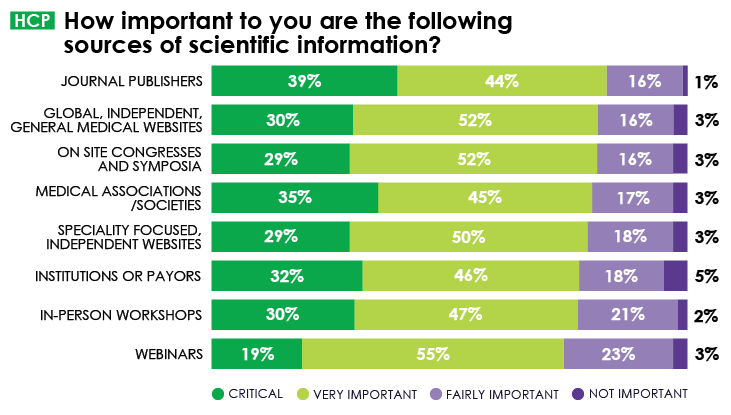 Backed by various research reports and white papers published over the last 18-months, the best solution is recognised to be the development of a mature omnichannel approach leveraging multiple channels of engagement to deliver personalised user experiences.
One such report found that an overwhelming 98% of pharma executives feel it is important to create and implement an omnichannel strategy for their organisation[1].
Most are still in the early stages of adoption and there are significant challenges to overcome, not least for medical affairs teams tasked with disseminating scientific information, who have typically lagged behind their marketing and sales counterparts in digital maturity.
EPG Health, as a digital innovator that is already employing omnichannel and personalisation methods to drive engagement with scientific information, highlights the following key pillars that must underpin successful omnichannel strategies.
1. PERSONAS – UNDERSTAND HCP PREFERENCES
For pharma, catering to the needs of the medical profession in this way is critical to build credibility and establish bonds of trust, ultimately leading to improved Return on Engagement (ROE). Those providing more valuable interactions are likely to be rewarded with repeat engagement[2].
However, evidence suggests that HCP preferences are not always being fully understood and acted upon. Although most in pharma say their ability to engage with healthcare professionals has improved since 2020, EPG Health's research shows gaps between the engagement HCPs want and the reality.
For example, pharma still views field force as the primary channel for helping HCPs discover scientific content, but just 4% of medical professionals see this as 'critical'. Meanwhile pharma – often preferring to focus resource on its own websites – places significantly less emphasis on global, independent medical websites than HCPs, who ranked them their second most important source of scientific information (behind journals)[3].
With a focus on delivering value for HCPs and results for pharma, third-party independent websites like EPG Health's Medthority platform (www.medthority.com) have a valuable role to play as part of pharma's omnichannel mix.
EPG Health already applies omnichannel principles to its medical education programmes by allowing HCP learners to transition seamlessly across channels including congresses, webinars, podcasts, social media, email, and Medthority, where scientific content is served to users based on their profile, search behaviour and peer activity data.
2. CONTENT – PROVIDE REAL VALUE
Further research indicates that, for some 77% of HCPs, personal learning and development is the primary reason they use digital channels. It is unfortunate therefore that the same study, published by Indegene, found that close to two-thirds of HCPs instead feel overwhelmed by promotional content shared by pharma on their digital channels[5].
Two more findings naturally follow: 70% of HCPs, according to the research, said that pharma representatives do not understand their requirements completely, leading 62% to conclude that industry can add the most value to their interactions by sharing only relevant content with them.
An omnichannel approach that makes use of advanced technology and promotes greater collaboration between pharma functions can be leveraged to redress the balance between promotional messaging and targeted scientific information.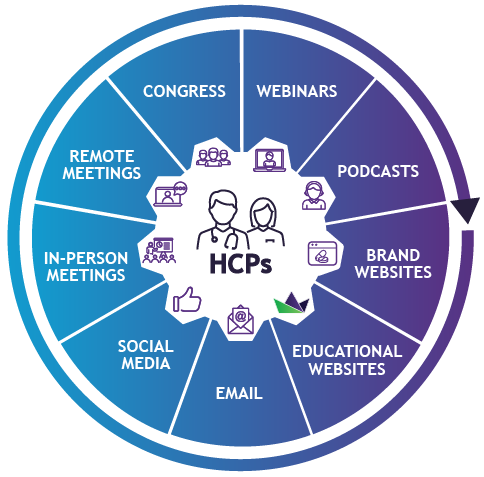 Medical affairs is well-positioned to support this due to its non-promotional remit, particularly in the pre-launch stage when there is opportunity to maximise engagement around an upcoming product's "scientific and patient value narrative", points out a recent white paper from IQVIA[6].
Understanding what constitutes real value is not the only content-related challenge facing pharma when it comes to delivering effective omnichannel.
A report from Aktana and DHC Group reveals that 62% of pharma executives cite lack of content as a key hurdle to omnichannel success[7], and the industry has been known to struggle with internal approvals and regulatory reviews taking too long. These issues are far less experienced by third party content providers.
Key advice is to streamline these obstructive (but crucial) processes where possible, work with independent HCP engagement specialists (such as EPG Health's Medthority platform), and build up an arsenal of pre-approved material that can be adapted dynamically for specific users, channels and purposes as required.
3. ORGANISATION – STRUCTURE, COLLABORATION AND SKILLS
But unpicking the current lack of alignment will not be easy and, according to one survey, 82% in pharma highlight organisational challenges, including structure, governance, skills and ways of working as major barriers to successfully implementing omnichannel[8].
A key foundational step towards addressing these difficulties is to promote culture change and a mindset-shift in favour of greater collaboration; this should help achieve buy-in for omnichannel across the business.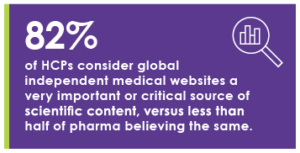 Also critical will be data integration between teams, so that all functions seeking to engage with healthcare professionals can access and feed into a single consolidated persona for individual HCPs. This in turn will support more sophisticated partnership on content strategy.
Upskilling in digital proficiency should be a further priority to get the most out of an omnichannel approach, particularly for those teams such as medical affairs which may be less digitally-mature than their colleagues in commercial functions.
Working with digitally-experienced third parties like EPG Health, which already has the skills and structure in place to deliver omnichannel HCP journeys through created and curated content, can help to fill in the gaps.
4. TECHNOLOGY – ENABLE PERSONALISED ENGAGEMENT
These tools underpin EPG Health's Medthority platform, which was recently recognised with a cross-industry award for its innovative user experience. Relevant and trusted educational material is surfaced for HCPs based on technology-generated profiles which include not only specialty, profession and location, but also insight into their previous interactions on the site and the behaviours of other doctors like them.
It is important to recognise that technology alone – without the right data and content to feed into it, or the right strategy and organisation in place – is not a silver bullet to deliver effective omnichannel for pharma.
However, with these complementary pillars established, the same tools used by Medthority represent the best way for pharma to personalise its communications. Predictive analytics and AI can be exploited to reveal content needs and channel preferences, and propose a 'next best action' for maximum impact based on this insight.
EPG Health's research reveals that two thirds of pharma respondents rate their organisation's digital HCP engagement maturity as being somewhere between the embryonic and adolescent stages[9]
Without developing this maturity and embracing the forward-thinking technology that is now available, it will not be possible to deliver the meaningful, personalised engagements that HCPs are demanding.
IN NEED OF SOME HELP?
Whatever your HCP engagement strategy looks like, the importance of an omnichannel approach cannot be ignored by those taking seriously the need to cater for evolved HCP expectations regarding pharma interactions.
With two decades of evolving experience, EPG Health has a deep technology-driven and real-world understanding of healthcare professionals' needs and preferences and is well set up to perform a central role within pharma's omnichannel mix.
Leveraging a range of channels including our AI-enabled platform Medthority, our pharma-sponsored educational programmes deliver seamless, personalised journeys through credible scientific content – aligned to learning objectives – to deliver demonstrable ROI for pharma and ultimately improve patient outcomes.
To discover more about how EPG Health can support your omnichannel engagement plans, browse information about Medthority, our solutions and our work.
---
[1] The State of Omnichannel HCP Engagement in Pharma, Aktana & DHC Group
[2] The "New" Rules of Engagement, Accenture
[3] The Gaps Between HCP Demand & Pharma Supply of Medical Information, EPG Health
[4] The Gaps Between HCP Demand & Pharma Supply of Medical Information, EPG Health
[5] The Digitally-Savvy HCP Learnings to Engage HCPs Around the World More Effectively & Efficiently, Indegene
[6] Medical Affairs' Next Frontier: Unlocking Omnichannel Engagement, IQVIA
[7] The State of Omnichannel HCP Engagement in Pharma, Aktana & DHC Group
[8] Medical Affairs' Next Frontier: Unlocking Omnichannel Engagement, IQVIA
[9] The Gaps Between HCP Demand & Pharma Supply of Medical Information, EPG Health
About the author
Content Marketing Manager
Steve joined EPG Health in 2022 following a decade in journalism working as an editor and reporter across various publications in the transport, construction and engineering sectors. His main responsibility involves developing quality marketing content and campaigns for meaningful pharmaceutical engagement.