Published 14 September 2022
Six steps to ensure pharma's HCP engagement platforms delivers sustained impact
For nearly two decades, pharmaceutical companies have been routinely delivering their own 'portals' for healthcare professionals (HCP). And, according to a recent (2022) report by Graphite and Reuters Events, 96% are still routinely failing.[1]
Reported by doctors as their 'number one' source of medical information [2], websites can deliver significant impact in clinical practice for companies able to achieve and sustain their value. Conversely, websites can hamper trust and be a sustained drain on resources if executed poorly.
Historically, pharma has been accused of dealing with HCP demand for digital platforms as a tick box exercise, with limited commitment and success due to the scale of the many challenges involved. However, since 2020, COVID-19's impact on the HCP engagement landscape has prompted all pharma functions, including medical and commercial, to rethink their commitment to 'digital' as the pre-eminent mechanism for generating, storing, delivering, and accessing content.
The long-term viability of your digital initiative will impact its ability to grow engaged audiences, empower them with knowledge, support their future actions and in turn improve patient outcomes. So, if you're looking to create an impactful online presence in 2023, it's imperative that you build sustainability into your strategy wherever possible.
Advice in this article covers:
1. Selecting the right platform for sustainable impact
2. Building ongoing resource and evolution into your strategy
3. Creating and repurposing impactful content regularly
4. Optimising your customer experience
5. Integrating your platform into a multichannel journey
6. Harnessing the power of your data to sustain impact
WHY IS SUSTAINABILITY IMPORTANT AND WHAT DOES IT LOOK LIKE?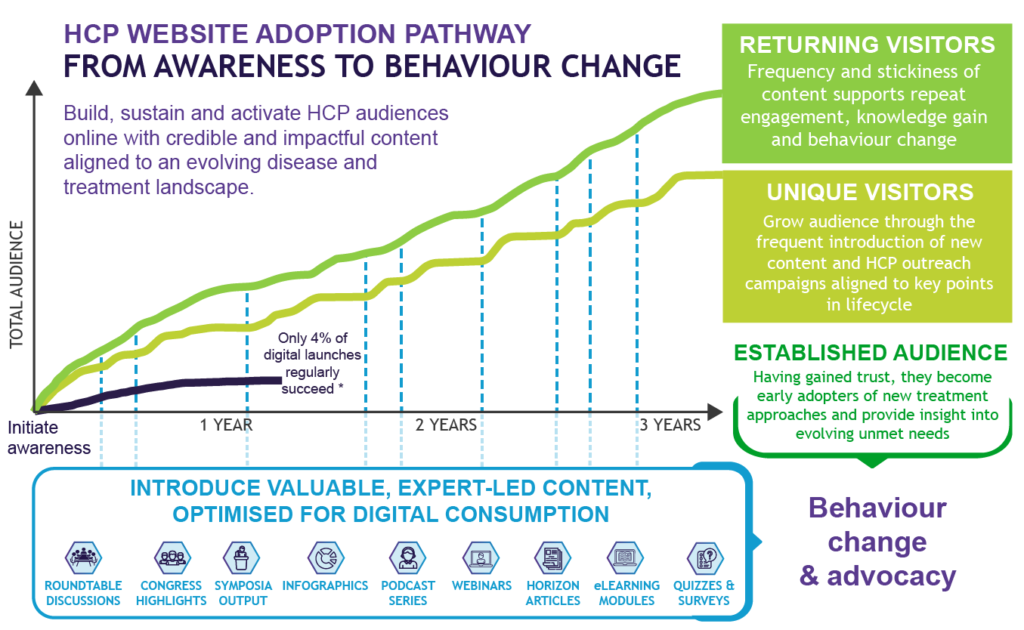 It's important to understand that HCP education platforms cannot achieve behaviour change and advocacy overnight. Many pharma companies confuse engagement with audience acquisition (reach), which can be a fatal mistake.
Effective engagement is a process with multiple stages, including awareness, interest, evaluation, trial, and activation. Outside of this process, audience acquisition is simply churned or lost potential. Acquiring new visitors is 5-20 times more expensive than re-engaging existing ones.
Retention is key to having an impact. Just because your newly acquired visitors have gained benefits on their first visit to your platform, doesn't make them adopters, now or in the future. Providing reasons to return is critical to building, maintaining, and activating an audience through an evolving disease or treatment landscape and product life cycle.
To compete with high volumes of online information, each interaction must provide unique benefits, including:
Awareness of, or solution to, a problem (knowledge gain)
Originality of content (engaging)
Ease/speed of consumption (convenient format for the time-poor)
Credible and compelling (trustworthy and evidence-based)
Actionable in clinical practice (practical skills, application)
1. SELECT THE RIGHT PLATFORM FOR SUSTAINABLE IMPACT
Are you prioritising HCP experience, or leading them to places they don't want to be?
There is push and pull internally for pharma on delivering its own content and channels or independent content and third-party channels. Most often 'own' wins (78% of pharma executives invest in their own websites)[2] even though this is not likely to be sustainable in meeting either HCP or pharma's own objectives. The long-term trend is towards independent, trusted, educational and non-promotional. Research indicates that HCPs attribute less value to pharma websites; it's not where they want to be. Most digital leaders understand this but currently invest more in their own hubs anyway:
82% of HCPs consider global independent medical websites a very important or critical source of scientific content, versus 33% for pharma brand websites.
MEANWHILE …

Over one third of pharmaceutical companies have policies that favour investment their in own websites rather than third party websites.
 24% expected a 'big' increase in budget allocation for their own websites in 2022 compared to just 3% for third-party websites. [2]
"The fact that we in pharma think that setting up closed, company specific sites (such as branded portals) is our intelligent answer to post-pandemic communications to me seems, at best, misguided… but probably better described as arrogant. Doctors are already voting with their feet, and are migrating towards independent portals just as you already do in your own life." [3]– Paul Simms, Impatient Health
There needs to be a reasonable balance between brand-owned communications and scientific arguments via third parties. Own websites should be prioritised for product information and brand awareness (after all pharma companies are the authority on this). Third-party websites should be used for education rather than promotion. Pharma and independent websites can run parallel but with different goals.
In general, pharma need to eradicate the brand and 'mine' focused mentality and support the right platforms for their customers' needs. Those who achieve this are most likely to succeed in growing and sustaining an audience with trust and impact.
2. BUILDING ONGOING RESOURCE AND EVOLUTION INTO YOUR STRATEGY
Around 80% of respondents agree that pharma "gets too distracted" building websites and apps but "doesn't follow through on creating services that provide long-term engagement" [4]– Pharma respondent, Graphite & Reuters Health study

"Pharma seems challenged with providing the long-term commitment required to make some projects a success. The person is just happy to get the project out the door, but impatient after three months when adjustments will inevitably be required. Once launched, it never gets revised, updated or improved on. The investment just dies." [2] – Pharma survey respondent, EPG Health Survey

"There was a big increase in minimum viable products, but those teams never came back and improved on these," said Hume. "It's easy to rationalize it internally and say, 'It's a minimum viable product,' but if you don't come back, it's the final product." [1] – Jon Hume, commercial director for Graphite

Often companies launch their minimal viable product or digital pilot but fail to then act on learnings or scale in a meaningful timeframe. Many are hampered by legacy operating procedures and lack of digital experience or maturity, but often there just isn't a strategy beyond launch.
To avoid stagnating, failing or giving up, companies must plan for scale from the start, including:
Ongoing budget allocation – 82% of pharma respondents agreed that budget cycle changes were required to support longer-term initiatives
Breaking down siloed infrastructure that restricts collaboration, process, technology, insight, content generation, multichannel integration
External collaboration – leverage strategic partners to expedite digital HCP engagement strategy
Capacity building strategy – a key business function and framework for future growth
Frequency of update – have a mid to long-term plan (12 months) for creating new, or repurposing existing, content and services
Horizon planning – aligning audience acquisition strategy to lifecycle management
3. CREATING AND REPURPOSING IMPACTFUL CONTENT REGULARLY
In 1996, Bill Gates wrote an essay titled 'Content is King', changing the course of customer engagement and experience. Over a quarter of a century later, we may have tired of the saying but its relevance has only become stronger. More than ever, medical professionals seek content online and brands are investing in their content marketing (including production, multichannel, CMS platforms and other technology).
So, does it make sense that more content is better? Not quite. Lack of time is the greatest challenge for HCPs in accessing information, and the volume of material shared with them is too high. Content is king because it provides something that people don't already have access to and informs their decisions. Therefore quality and originality are important – it needs to fulfil an unmet need.
For your digital medical content to be impactful, it must achieve the engagement 'sweet spot'; relevant to their clinical practice, credible to their above-average intelligence, and compelling enough to instil a change in their behaviour.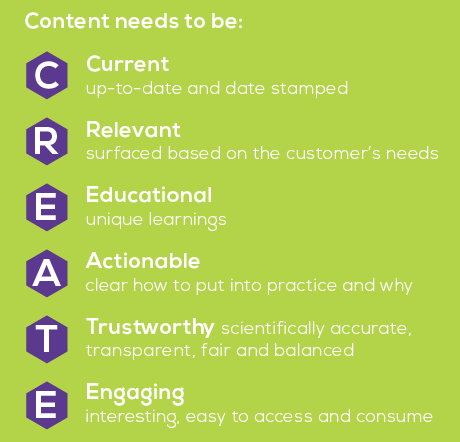 Consumers are looking for authenticity from the organisations they engage with. Learning resources directly created by a pharma company often carry an inherent perception of bias,  so Independent Medical Information (IME) is an important way to bolster credibility and trust. However, more pharma companies provide eDetails (62%) and banner advertising (62%) on third-party websites than support CME (58%) or eLearning (47%). Such promotion is the polar opposite of what HCPs want to see on independent websites!
Listen to your customers' needs. Growing and sustaining an audience requires regular sharing of the types and formats of content that HCPs need and value most. For example:
94% want better access to peer-to-peer guidance
87% value short videos
72% value podcasts
… So provide videos of round table discussions and podcasts of KOL interviews.
94% want interactive, modular learning
85% value non-accredited eLearning
94% value CME accredited learning
… So invest in accredited online modules that test their knowledge. The output from these will also provide you with valuable insight into unmet needs, steering future content and engagement opportunities.
91% want better access to reports from congress and symposia
88% want on-demand/post-event access to recordings
… So support a round-up of highlights from congress and short videos of the key information presented by experts.
Plan a content refresh roadmap from the start, including new congress output, approvals and guidelines etc. This will ensure that your platform maintains momentum. A fire and forget approach spells failure because over time content becomes stale and there is no cause for re-engagement.
4. OPTIMISING YOUR CUSTOMER EXPERIENCE
Optimising customer experience relies on understanding and fulfilling your audience's needs throughout their digital journey and interactions. It involves optimising your content, technologies and channels to support the overall interaction and consumption process.
According to the Graphite and Reuters report, 62% of pharma said it's "unrealistic" to compare the digital experience of pharma's customers with those of consumers for companies like Netflix, Spotify, and Amazon.[5]  Perhaps! But pharma's customers are also the consumers of such products, and that is where their own digital experience expectations are set. The fact that the pharmaceutical industry is behind the curve, does not make a 95% failure rate for digital initiatives acceptable. We must aim for the standards set by other industries; learn from best practices to ease discovery, intuitive journeys and relevant interactions.
Easing discovery is critical to attracting and retaining an audience. So link valuable content types together with digital signposting, notifications and scannable bit-sized overviews. This will support personalised journeys and 'stickiness' – helping HCPs pick out content relevant to them for more immediate clinical utility.
Making content easy to consume will ensure time-poor HCPs want to return again and again, and therefore contribute to the sustainable impact of the platform. HCPs prefer bite-sized and interactive content, chunked into digestible/micro learnings. So, for example, break down recordings of scientific meetings into a series of short videos containing the key learnings (valuable content in a convenient and engaging format) and then align short quizzes to reinforce their learning. Similar can be achieved with podcasts, infographics, and other types of content, to maximise value and minimise time for your audience.
5. INTEGRATING YOUR PLATFORM INTO A MULTICHANNEL JOURNEY
Some of your most important customers will be the most difficult to reach. That is why it's critical to create a web of omnichannel activities or gateways to your platform. Provide your audience with options to discover and explore online content from their preferred or frequently used channels, including: email, sales force and MSL activities, scientific meetings, and social media.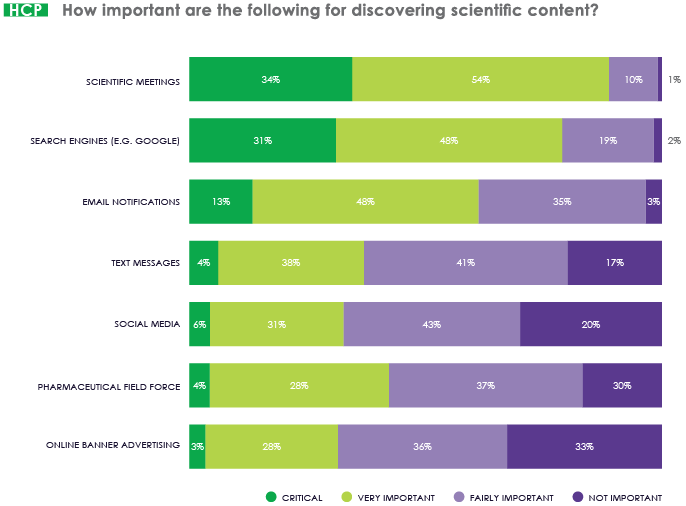 (Source: P.15, https://epghealth.com/reports/the-gaps-between-hcp-demand-and-pharma-supply-of-medical-information/)
HCP communication outreach campaigns are essential to creating awareness of your HCP platform content at launch and beyond. Each time you add fresh content to your platform, you should employ a similar or evolved multichannel HCP communications plan. This breeds familiarity for your audience as well as efficiencies through audience insight (analysis of metrics).
Each channel offers different capabilities or advantages by content type and format, so it is important to create, repurpose and optimise approved content and messaging for each. Building a logical user journey and consistent experience can cause challenges for pharma, from a process and approval perspective, but it's necessary for growing the reach and impact of your platform.
Caution: there is such a thing as too much engagement. We should aim for omnichannel rather than omnipresent! Since HCPs are so time-poor, communications should be highly targeted based on relevancy and proof of impact.
6. HARNESSING THE POWER OF YOUR DATA TO SUSTAIN IMPACT
Poor data can be the downfall of a digital platform. Our experience is that pharma is often blinkered by quantity over quality, being overwhelmingly concerned with reach. But, without proper context, traditional metrics like page views, sessions, and users are often meaningless or provide a false sense of effectiveness.
Establishing the right, bespoke KPIs for individual digital activities at the planning stage is a detailed task, but not doing so could be a costly mistake. Armed with meaningful insight, you can better understand the depth of engagement, adapt content, control the journey, measure content ROI, and confidently plan further tactics/resource to ensure the platform's ongoing impact and success.
What are the measures of success? The answer is 'it depends'. There is no one-size-fits-all when it comes to success. What "good" looks like will vary for each individual website or project. It will also change through the lifetime of the activity, which should be regularly evaluated and optimised to grow and sustain engagement.
Context is key. KPIs and metrics should be defined by and aligned to specific objectives, personas, key educational messages, content, website features and journeys. You will therefore need to apply your own rationale based on each of these variables, along with your past experiences and existing data. Only by applying this context can you be sure to collect relevant quality data and understand the sustainability and impact of each element.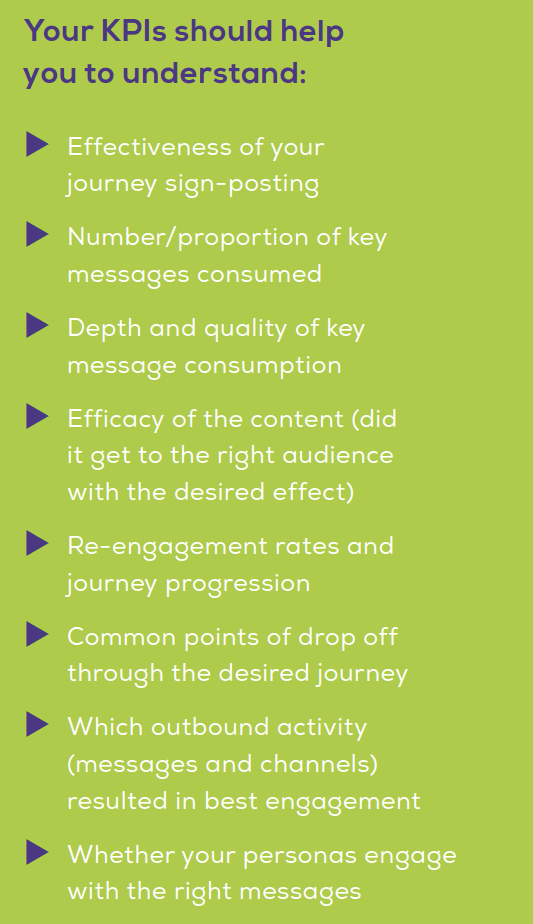 (Source: https://epghealth.com/reports/whitepaper-accomplish-meaningful-hcp-engagement-online/ )
Specific examples might include: X number/percentage of target HCPs watched the KOL video for long enough to consume the key message. This is a better measure of success than simply the video views, which provides no indication of whether they were the right people or that they consumed the key message.
Whatever your insights are, it's essential to act on them and commit to the long tail of making your tactics work. For example, edit the video differently so that key messages are surfaced before users typically drop out. Such changes are important for optimisation, and armed with the right evidence you don't need to be afraid of investing in change.
Metrics tell you what is happening, but not why. Without qualitative research, you risk creating your own narrative to try to explain the 'why'. With simple online polls and surveys, you can learn what your customers think, which, in combination with your data, is useful to steer the design of your website and its content.
For further advice on website metrics, read – https://epghealth.com/2022/04/the-power-of-meaningful-hcp-website-kpis-and-metrics-for-pharma-marketers/
MAKE SUSTAINABILITY YOUR GOAL
Sustainability will underpin the success of your digital activities, so ensure commitment. This starts with the multidisciplinary team and often requires significant amounts of change management. Build evolution and frequency of valuable content into your strategy, with commitment, experimentation, and resource, steered by your insights. There has never been a better time, or one with more momentum, to build, sustain and activate HCP audiences online.
Watch a short case study video illustrating the 3 year evolution and outcome of one digital educational programme.
Overwhelmed by the scale of the challenge? leave it to us.

EPG Health has 20 years' experience in delivering Learning Zones: bespoke, disease or condition focused educational microsites on Medthority, our independent website for healthcare professionals worldwide. Designed to grow and evolve to sustain engagement and impact, they may be hands-on (with pharma input) or hand's-off (independent, grant-funded).
---
[1] https://www.mmm-online.com/home/channel/7-day-supply/built-to-fail-pharmas-digital-product-launches-plagued-by-single-digit-success-rates/
[2] https://epghealth.com/reports/the-gaps-between-hcp-demand-and-pharma-supply-of-medical-information/
[3] https://www.linkedin.com/feed/update/urn:li:activity:6892839608632360960/
[4] https://www.fiercepharma.com/marketing/pharmas-conservative-nature-holding-back-digital-product-launches-just-4-successful
[5] https://www.reutersevents.com/pharma/content/trend-report-new-era-hcp-engagement
About the author
Marketing Director, EPG HEALTH
Michelle Kelly is division head of Marketing and Market Research at EPG Health. With a focus on supporting meaningful engagement with HCPs, she has more than 20 years' experience in medical publishing, having previously worked at Nature Publishing Group and Current Science Group. Contact her at [email protected] or on LinkedIn.